Amdani! Conwy
Chi Ydi Diwylliant Conwy! | You Are the Culture of Conwy!
What do we do?

Amdani! Conwy is a new project that opens up volunteering opportunities for local residents and the communities in our area to become ambassadors for Conwy's exciting cultural offer.
Amdani! Conwy supports cultural venues and event organisers and works with our communities to make arts, culture and heritage fun, accessible and inclusive. You don't have to be an expert in culture or the arts to take part.
As a volunteer you will get the chance to be a part of a friendly network made up of people from different backgrounds. You'll also access behind the scenes and chat with the public from far and wide, develop new skills and learn from artists and workers who live and work in our area.
Who are we?
Amdani! Conwy! is anyone who wants to be involved.
Initiated through the Creu Conwy Partnership, the project is being delivered in partnership between Conwy County Borough Council, CVSC (Community Voluntary Support Conwy) and Disability Arts Cymru. Together, these organisations will build a new supportive framework which benefits both the people and the arts in Conwy.
Amdani! Conwy is a pilot project which has been generously funded by the Spirit of 2012: Volunteering Cities Fund and Conwy County Borough Council.
How can you take part?
Over the next two years we will be announcing a series of recruitment waves to slowly build our community of volunteers. Don't worry if you just missed one, the next chance to enrol is never too far ahead.
You can express your interest and be put on a waiting list for our upcoming recruitment wave. Please submit your expressions of interest here.
The next recruitment wave will start on 1 September 2023 until 17 September. After you've registered, you'll be invited to a training session at the end of September. Please make sure you make time to attend this training as it is a requirement for all volunteers.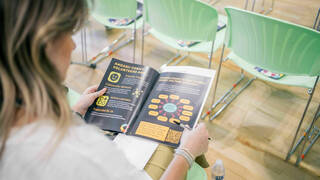 Become a volunteer host
We are now accepting volunteer opportunities for Amdani! Conwy.
Please note our volunteers will not be trained until July so please only submit opportunities that are happening after July.

You can find all information about become a volunteer host in our handbook.
Llawnlyfr Cefnogi Gwirfoddolwyr
Get in Touch:
Amdani@cvsc.org.uk

07743932406